What's It Gonna Be? Episode 5 – Brand Awareness
What's It Gonna Be? It's gonna be Episode 5 – BRAND AWARENESS!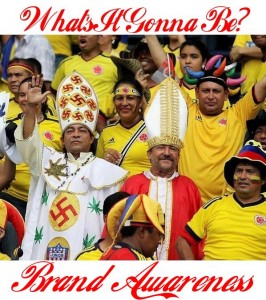 Right off the bat, we wanna apologise for the slight hiss in the background of the audio – our highly specialised and expensive studio equipment was suffering from technical difficulties.
To start with we have Dead Bill Hicks extolling the virtues of what Marketing and Advertising people bring to the world.
We mention The K Foundation's appearance on the Late Late Show, you can see that for yourself: Part 1 | Part 2 | Part 3.  You can watch the video of them burning £1m here.
Simon Covney visits The Bilderberg summit.
First Music Break:
We come back and talk about The FIFA World Cup.  The Rap News vid we mentioned can be seen here.
We've got Swastika Weed Pope as our BRAND AMBASSADOR as you can see above.
Music again:
Hurling on Sky Sports – sure why wouldn't ye?
Waterford Whispers – The Day Ireland Lost It's Innocence.
Charles Stross – The Laundry Files.
Brian Lumley –  Necroscope.
Are there tapeworm eggs in Slim Fast?  No Neal.  Just no.
Exit music from our friend Rachel Ann is Trentemøller – Take Me Into Your Skin